The community of Tuktoyaktuk has one community center that can host a large event or small conference as well as an attached arena. Details of the Kitti Hall and the Donald Kuptana Sr. Memorial Arena are listed below. Please view our business section for a comprehensive list of local businesses available to support your event.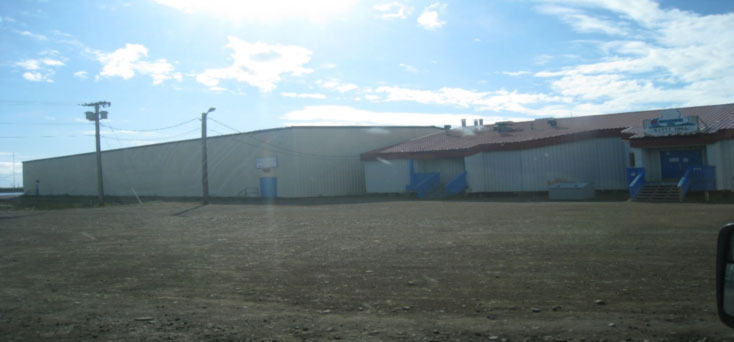 Tuktoyaktuk Kitti Hall and the Donald Kuptana Sr Memorial Arena
The Kitti Hall Centre provides a first-class meeting facility located in the central area of the community. The Kitti Hall can accommodate over 249 people at a time.
Event coordinators are available pre-conference and during conferences to assist with logistics as required and to ensure the meetings, special activities and contracted services run smoothly. The community boasts a number of talented residents and organizations that can provide a variety of services to visiting delegates whether it be food, entertainment, ground transportation, or guided interpretive tours.
List of available caterers (pdf)
List of tour operators (pdf)

The Donald Kuptana Sr Memorial Arena is named after a well-respected elder in the community who showed dedication and love for the sport of hockey and was an avid supporter of minor hockey for many years before his passing.
Call (867) 977-2513 for a quote or click here for a list of current rental rates
Hamlet facility booking form (pdf)
James Gruben Airport
Regular scheduled flights run year round along with chartered flights:
click here to make reservations with Aklak Air Ltd: http://www.aklakair.ca/
Flight seeing tours operate during the summer months with coordination through Northwright Airways click here to visit their website:
http://www.north-wrightairways.com/
Cemetery – Plots may be reserved at the Tuktoyaktuk Cemetery by contacting the Hamlet office.
Churches – St. John's Anglican Church, Tuktoyaktuk Baptist Church, The Glad Tidings Mission and
Our Lady of the Lourdes Catholic Church offer weekly Sunday services.
Aurora College Community Learning Centre – Located by the shores of the Arctic Ocean, the Aurora College delivers programs and courses as close to the communities as possible. This is achieved through a network of three regional campuses as well as Community Learning Centre's in most of our communities. We offer a broad range of programming, from Developmental Studies to certificate, diploma and degree programs. Our programs and services give our students the vocational and professional skills, communication skills and life skills needed for success in their chosen careers. Click here for the contact information for this learning centre: http://www.auroracollege.nt.ca/_live/pages/wpPages/Contact_CLC.aspx
Environment and Natural Resource Officers – Environment and Natural Resource Officers provide conservation and enforcement services for Tuktoyaktuk, including working with problem wildlife. The Tuktoyaktuk office issues local hunting licenses, local fishing licenses, and wildlife export permits.
Local Number: (867) 977-2350 or Inuvik Office at (867) 678-6650
Counselling Services – Support and counselling for individuals, couples and families are available in Tuktoyaktuk through the Beaufort Delta Health and Social Services programs.
Click here to learn more about Counselling services and what is available in our community:
http://www.hss.gov.nt.ca/social-services/mental-health-and-addictions
Fire Department – Volunteer Fire Department consists of 17 active members with 1 Fire Chief.
This link goes directly to their Facebook page. https://www.facebook.com/groups/1472113952848074/
Groceries – The Northwest Company and Stanton's Tuk are the only two grocery stores located in Tuktoyaktuk and have a wide selection of grocery items including, fresh produce, dairy, canned goods, frozen foods, health and beauty items as well as a lotto centre and an ATM machine. Open year round.
Health Centre/Ambulance Rosie Ovayuak Health Centre – The link below gives you a brief description of the services offered through our health system.
http://www.bdhssa.hss.gov.nt.ca/health/health-services-our-communities/tuktoyaktuk-health-services
Home Care – The Rosie Ovayuak Health Centre offers home care and home support services in Tuktoyaktuk for elders and those who require addition medical support.
Internet – Access to the internet may be available at the Hamlet office to visitors coming into the community. The community also has 3G wireless services.
Landfill – The Hamlet's Mayor and Council are currently in the process of opening a new landfill site. Expected time of completion is 2022.
Library – The Mangilaluk School Public Library is open on Tuesdays to Saturdays from 1 p.m. to 5 p.m. Story time takes place on Friday mornings from 10 a.m. – 11 a.m. for pre-school age children.
Police – Royal Canadian Mountain Police– The link provides contact numbers for our local detachment. http://www.rcmp-grc.gc.ca/detach/en/d/361
Post Office – The Tuktoyaktuk Post Office is located in the Northern Store and is open Mondays to Fridays from 10:00 a.m. to noon and from 1:15 p.m. to 5:00 p.m.
Mangilaluk School – The Mangilaluk School offers Kindergarten to Grade 12 classes following the Alberta curriculum, 25 full and part time educators serve up to 225 students.